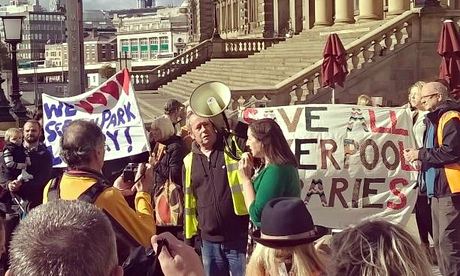 Authors fight to save libraries
Authors Cathy Cassidy and Alan Gibbons have started a campaign to save Liverpool libraries. This is a campaign backed by many, many people including myself. This is just a small blog but I wanted to add my thoughts and my love letter to Liverpool libraries. I will email the link to Mayor Anderson as I beg him to change his mind.
First of all here is what Cathy has said: 'Eleven much-loved and well-used Liverpool libraries are about to be closed, and as the council are not listening to protests or petitions, a campaign to bombard Mayor Joe Anderson with love letters to the libraries has been launched. The letters will show how much the people of Liverpool - and beyond - care. Schools, colleges, teachers, families, businesses, individuals...we can all write letters to Mayor Anderson to ask him to change his mind.'
We have support for our campaign from over 500 authors, poets, actors, musicians, academics & creatives of all kinds including Poet Laureate Carol Ann Duffy, Children's Laureate Malorie Blackman and many other big names. Could YOU support us too by writing a 'Love Letter to Liverpool's Libraries'? Send your letter to Mayor Anderson at the Town Hall, High Street, Liverpool L2 3SW or email to:
http://liverpool.gov.co.uk/contact-us/contact-the-mayor/
or
http://cathycassidydreamcatcher/blogspot.co.uk/2014/10cathy-my-love-letter-to-liverpool.html '
Here is my letter:
Dear Mayor Anderson
Do you have children? Have you spent time reading to them? Last night I sat with my three year old grandson on my lap and read stories, one after the other. I lost count how many we got through. He lived every single one of them. He loves stories. He is lucky we are able to give him books but he also loves nothing better than a visit to the library as do his brothers and sister.
In a recent article it was stated that 4 million children have no access to books in their homes. Can you imagine that? No chance to escape into different worlds. To explore and imagine. Those children may not own a book but they would have access to them if they can go to a library close by. If you close any libraries you are taking away those chances. You are taking away the opportunity for a child to let their imagination develop.
I write young adult fiction. Young adult fiction allows teenagers to ask questions of the text and of the world they live in. It can help them to work out who they are and just as importantly who they are not. It is all about the vicarious experience as they think how they would react in any given situation. Once again by closing these libraries you are taking away opportunities for some teenagers to have access to books. To give them chances to read about others like them or maybe not like them but to help them understand how the world works. Why would you do that?
Liverpool has such a name for culture and for nurturing that culture. Being supportive of the underdog and believing that anyone can do anything. Libraries are the linchpin of all these beliefs. Why close them? Why take away these opportunities? These dreams?
Please reconsider.
We love libraries.
We love Liverpool libraries.
Regards
Dr Vanessa Harbour
Senior Lecturer - University of Winchester
Mentor - Golden Egg Academy
Writer - YAF
Seems only appropriate to use one of Liverpool's own as my musical message. We are all going to stand together